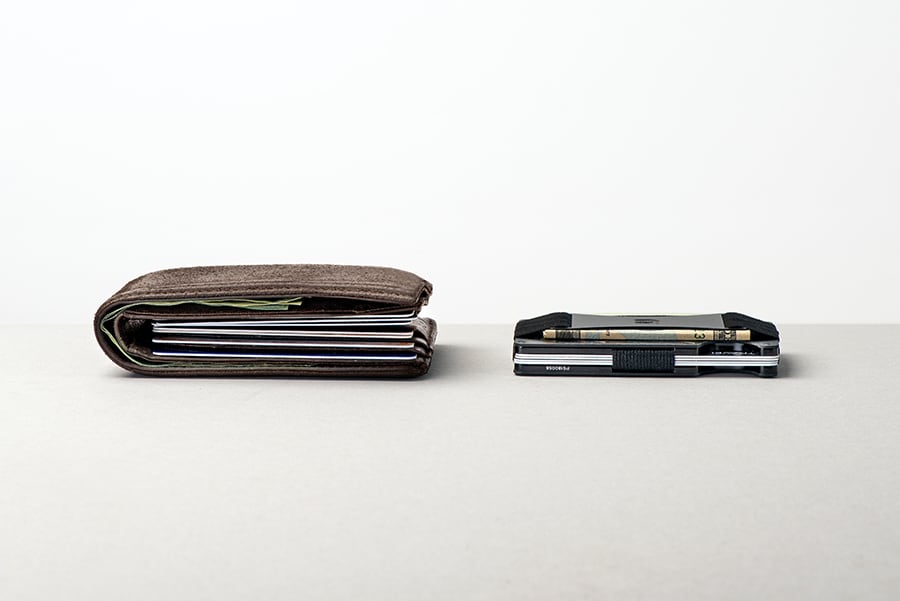 Ekster vs Ridge: Which Wallet is Better for You?
Introduction Choosing a secure wallet is an important choice that could have far-reaching effects. In
Introduction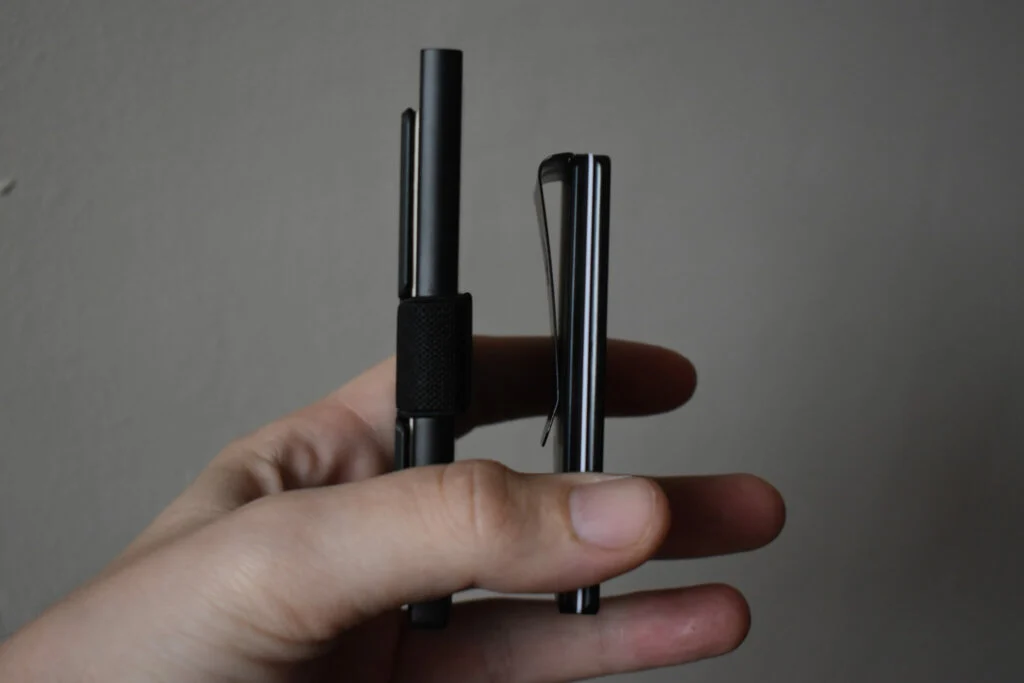 Choosing a secure wallet is an important choice that could have far-reaching effects. In addition to practicality, a person's choice of wallet can serve as a window into their personality and sense of style. Your wallet has the potential to impact your comfort, security, and even physical well-being.
Despite this, a large percentage of people are still using bulky, disorganised, and worn-out wallets. Back ache, swollen pockets, broken cards, identity theft, and other problems have all been connected to carrying one of these wallets. These wallets are also boring and irrelevant to the needs of today's consumers.
Many people are making the switch to electronic wallets because they are convenient, secure, and fashionable. Smart wallets utilise state-of-the-art design and technology to improve its usability. They're not just sleek and secure; they're also versatile, customizable, and aesthetically beautiful.
Two of the most well-known brands in the smart wallet market are Ekster and Ridge. The Dutch business Ekster manufactures premium leather and aluminium wallets with cutting-edge features including solar-powered tracking cards, RFID blocking technology, and rapid card access mechanisms. The American company Ridge creates RFID-blocking wallets out of lightweight metals like aluminium and titanium or carbon fibre. These wallets feature a built-in money clip or currency strap as well as elastic and screws that can be easily removed and replaced.
This article compares and contrasts the Ekster and Ridge wallets, highlighting their respective strengths and weaknesses. We'll look at how their various specs, materials, functionalities, designs, and costs stack up against one another. By now, you should have a better idea of which wallet might work best for you.
Features of Ekster Wallets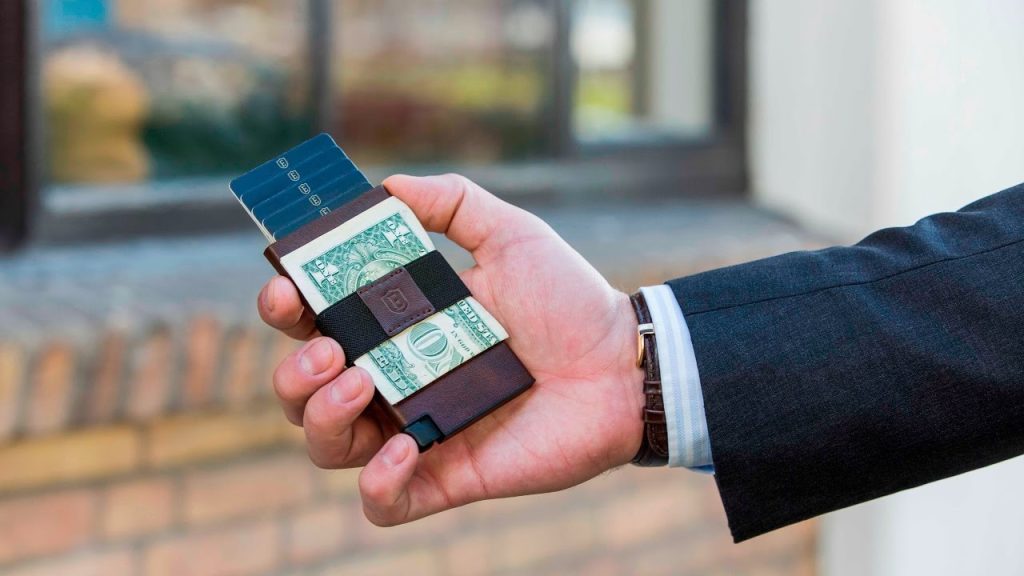 Some of the many useful functions of an Ekster wallet include:
RFID-blocking technology: Technology that blocks radio frequency signals used to transmit card information is used to prevent your cards from being scanned without your permission.By doing so, you can protect yourself from online fraud committed by hackers using RFID scanners.
Quick card access mechanism: This convenient feature has a button you may press to quickly access your cards. The cards are held in place by a spring and released in a cascading fashion.That way, you won't have to fumble about or search through piles of cards to get the one you need.
Solar-powered tracker card: Connecting your wallet to your phone or voice assistant via a solar-powered tracker card ensures that it can never be misplaced. The tracker card is a compact solar-powered device designed to fit in your wallet. To find your wallet on a map or have it ring your phone, you can use an app or a voice command.If you lose your wallet and your phone, you can use the wallet to ring your phone.
Premium leather or aluminum materials: Materials like premium leather or aluminium give your wallet a professional appearance and feel. The wallets are crafted from top-grain leather that has been tanned according to strict environmental standards (certified gold).The aluminium used in the wallets is anodised for further durability and is of space-grade quality.
Modular design: This wallet's modular construction lets you add on whatever features you choose, making it perfect for personalization. Your wallet comes in a wide range of styles, sizes, colours, and options.The tracker card, money clip, cash strap, etc. are all interchangeable parts.
Features of Ridge Wallets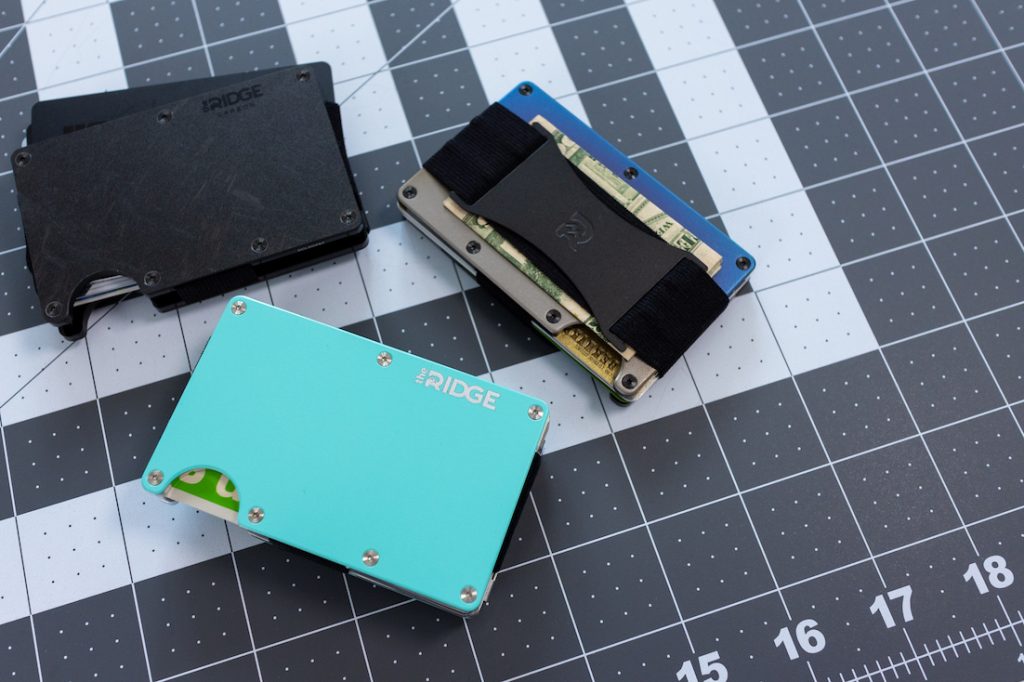 The following are some of the clever characteristics of a ridge wallet:
RFID-blocking technology: Technology that blocks radio frequency signals used to transmit card information is used to prevent your cards from being scanned without your permission.By doing so, you can protect yourself from online fraud committed by hackers using RFID scanners.
Slim metal frame: A maximum of 12 playing cards can be conveniently stored in the slim metal frame. A metal frame with an elastic strap holds the cards.A little hole at the bottom of the frame provides convenient card access.
Integrated money clip or cash strap: There is either a traditional money clip or a more modern cash strap integrated into the wallet to keep your cash safe. You can secure your cash in a metal money clip by sliding it onto the wallet's rear.The cash strap is a rubber band that secures your currency in a flat layer across the front of your wallet.
Military-grade aluminum, titanium, or carbon fiber materials: These materials are sturdy and lightweight, giving your wallet a professional air. The 6061-T6 aluminium that goes into the wallets has been anodised to increase its longevity. The Grade 5 titanium used to make the wallets is far more durable than steel while still being significantly lighter than aluminium.The wallets are constructed from 3K carbon fibre, which is both lightweight and scratch-proof.
Interchangeable elastic and screws: The wallet's elastic and screws are removable, so you can customise it to fit your needs. If the elastic band or screws break or become worn, they are easily replaceable.The elastic band and the screws can be customised to your liking by changing their colour and design.
Pros and Cons of Ekster Wallets
Here are some pros and cons of using an Ekster wallet:
Pros:
With a single push, you may quickly and easily access your cards.
Find your wallet using your phone or voice assistant thanks to the smart tracking feature.
Various colours and versions with a classy and attractive design.
Guaranteed customer happiness for life with a 99-day free trial and lifetime warranty.
Cons:
Prices are higher than those of certain rivals.
Money storage is at a premium
Problems with the card mechanism or the tracking card could arise.
Pros and Cons of Ridge Wallets
Here are some benefits and drawbacks of using a ridge wallet:
Pros:
Simple and small enough to fit in your purse or pocket.
Durable and well-built to last the test of time
Cash strap and money clip designs that are flexible and easy to alter
Guaranteed customer satisfaction with a lifetime warranty and no restocking fees
Cons:
Accessing your cards while wearing a tight elastic band is cumbersome and time-consuming.
Disappointing lack of a monitoring system or other smart features
Unpretentious style that isn't for everyone
Conclusion
Finally, Ekster and Ridge are two well-known smart wallet manufacturers that provide simple, long-lasting, and practical options. Each one comes with a lifetime guarantee and has RFID-blocking technology, a sleek metal design, a money clip or cash strap integration, and a lifetime guarantee. They share some similarities, but there are also distinctions in terms of construction, features, aesthetics, cost, and more.
Users that prioritise ease, sophistication, and originality will find more satisfaction with an Ekster wallet. Modular construction, fast card access mechanisms, high-quality materials like leather or aluminium, and solar-powered tracker cards all describe these products. They are more costly, have a smaller capacity for bills and coins, and can break down or wear out over time.
Users who place a premium on ease of use, durability, and adaptability might consider a ridge wallet. They're made with military-grade aluminium, titanium, or carbon fibre and have compact metal frames with removable elastic and screws. They're cheaper, can hold more cards, and are more sturdy and dependable.
Your demands and tastes will determine whether you're better off with an Ekster or a Ridge wallet. Prior to making a purchase, you should weigh the benefits and drawbacks of each wallet. You may learn more about how each wallet functions in practise by reading reviews and comments left by actual users.