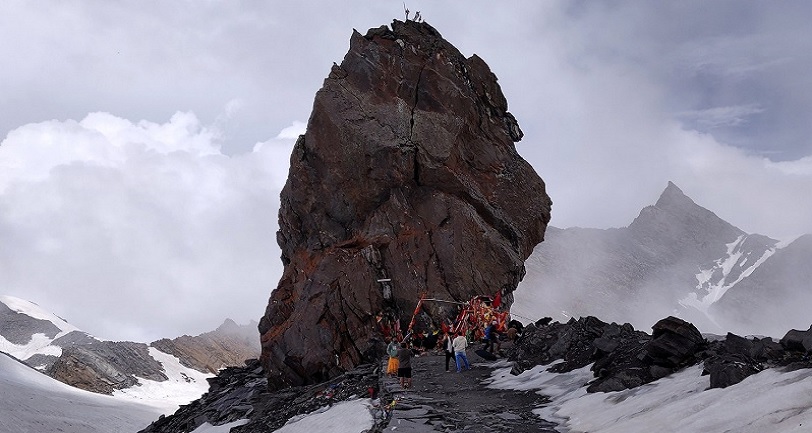 Srikhand Mahadev: A Journey to the Abode of Lord Shiva
We pray that this article has helped you in your quest to reach Srikhand Mahadev by supplying you with the information you need to successfully plan, set off on, and return from your trip. The authors of this piece are hoping that they have piqued your interest enough to motivate you to undertake this test for yourself.
Introduction
Have you ever fantasised about paying a visit to the temple dedicated to Lord Shiva, the Hindu religion's ultimate deity? Srikand Mahadev is both a pilgrimage place and a hiking destination in Kullu, Himachal Pradesh, India, and is worth considering whether you are a devout Hindu or an ambitious hiker. A trip to Srikhand Mahadev, located about 18,570 feet above sea level and 32 kilometres from the starting village of Jaon, is often regarded as one of the most challenging in India.
The hike is roughly four days long and takes hikers through a variety of beautiful and treacherous landscapes, including deep woods, steep slopes, rocky moraines, and glacier covers.The 75-foot Shivalingam, a stone sculpture at the peak of the mountain thought to be a manifestation of Lord Shiva, is the reason many people make the ascent.
According to Hindu mythology, Srikhand Mahadev is linked to the story of Bhasmasur, a demon who was granted a wish by Lord Shiva to reduce everyone he touched to ashes. As his pride grew, Bhasmasur plotted to utilise his might against Shiva. Srikhand Mahadev was formerly a hill where Lord Shiva had disappeared before reappearing. Devdhank is the name of the cave near Nirmand village where he hid.The Pandavas, the protagonists of the Indian epic Mahabharata, are rumoured to have made this journey.
With the information provided here, you should be well-equipped to make it all the way to the home of Lord Shiva. We shall outline the journey's major stages, outlining the highlights and difficulties of each. A few anecdotes and personal reflections from the journey will be shared as well. To feel the heavenly mercy of Lord Shiva, we hope this article encourages you to accept this challenge.
Preparation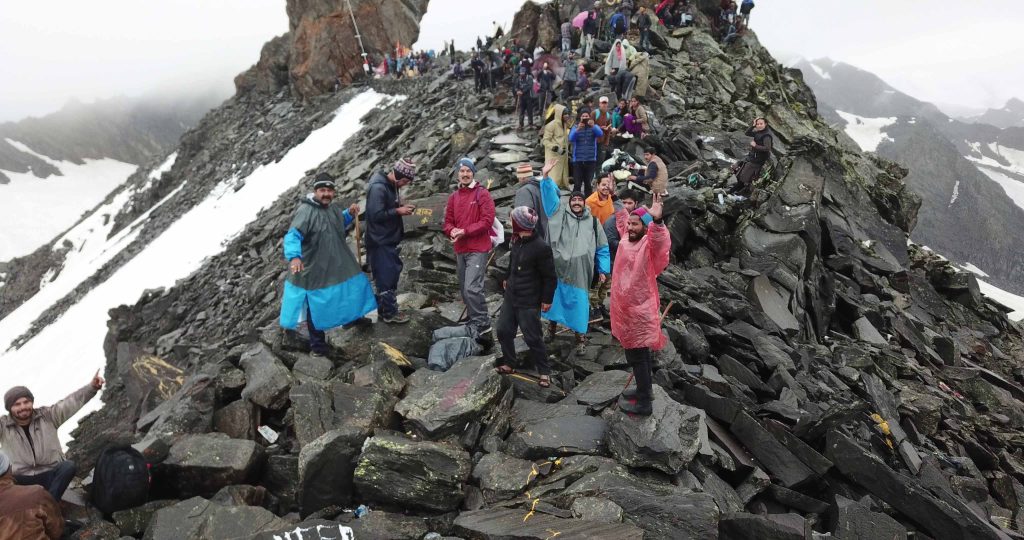 You should prepare in advance if you want to get the most out of this thrilling and instructive opportunity. What to bring, when to go, and other travel tips are detailed below.
Bring along all the gear you'll need for the walk, including clothes, shoes, a backpack, a sleeping bag, a tent, food, water, medicine and so on. Make sure you have enough of everything you'll need, including warm and comfortable clothes, sturdy and waterproof shoes, a roomy and lightweight backpack, a sleeping bag and tent suited to high altitude and cold weather, a water bottle that won't leak, nutritious and energy-boosting snacks and medicine for things like headaches, nausea, diarrhoea, etc. Some personal goods, such as sunglasses, sunscreen, a hat, a camera, and so on, may also be useful to have on hand.
The months of July through September are ideal for a trip to Srikhand Mahadev due to the beautiful skies and mild temperatures. On the other hand, you should be ready for any kind of weather, including rapid temperature changes. Fog, snow, and rain may all roll in unexpectedly. Daytime highs could reach 30 degrees Fahrenheit or more, while overnight lows could hover around zero. Before beginning your journey, you should check the weather report and pack properly.
One must be in peak physical and mental condition to make the journey to Srikhand Mahadev. Carrying a hefty pack for lengthy periods of time on rough terrain is a must. The ability to function at high altitudes with limited oxygen is also required. You should schedule a checkup with your doctor and discuss any necessary precautions for your upcoming adventure. Boost your stamina and endurance through regular physical activity, such as jogging, cycling, or swimming. Breathing techniques, such as pranayama or yoga, can also help you adjust to the higher altitude.
Itinerary
From Jaon hamlet in Kullu district, some 170 kilometres from Shimla, begins the journey to Srikhand Mahadev. From either Shimla or Chandigarh, you can take a bus or taxi to Jaon. The first base camp with free and paid food services is located 3 kilometres from the village of Jaon. This is Singhaad. It's also the last settlement before returning home. We now enter the heart of the journey.The journey from Jaon to Srikhand Mahadev summit and return is described briefly below.
Day 1: Travel from Jaon to Thaachru (15 km; 8-9 hours) on day 1. The Dandi-Dhaar is a 12-kilometer steep slope that rises at an angle of nearly 70 degrees, making it the longest and most difficult section of the walk. On your journey, you will go by many verdant deodar trees and clear running water. At Thaachru, a second camp where you can sleep in tents and eat, you will have these amenities at your disposal. Surrounded by streams and deodar trees, Thaachru provides a stunning panorama of the valley below.
Day 2: The second day entails a 13.5 kilometre (9-10 hour) trek from Thaachru to Bheem Dawaar. There are both uphill and downhill sections in this section. Kali Ghati, the mythical home of the Hindu goddess Kali, is located at the top of a three-kilometer ascent. If the sky is clear, one can make see the Shiva-Linga from here. The next 1 km will take you down to Bheem Talai, a tiny pond where you may relax and refuel. Three kilometres of climbing will bring you to the verdant Kunsa Valley, bursting with Himalayan flora. You may find all the standard amenities in Bheem Dawaar, the next base camp, which is located 3 kilometres further on.
Day 3: Three days, fourteen kilometres, nine to ten hours: Bheem Dawaar to Srikhand Mahadev and back. This is the best part of the journey since you are finally going to Srikhand Mahadev. To reach Parvati Bagh, the garden Goddess Parvati herself planted, you must first walk for two kilometres. Brahma Kamal, a type of flower revered in Hinduism, is one example. Nain Sarovar, a holy lake where many people claim to have been healed after bathing, is another 2 km of trekking away. Now comes the tough part: hiking three kilometres over rugged terrain to the peak where the Shivalingam is hidden. The breathtaking view of the Himalayas, along with the majesty of the Shivalingam, will leave you in awe. You can pray and snap some photos at this location. You will spend some time at the peak, and then make your way back to Bheem Dawaar.
Day 4: Travel from Bheem Dawaar to Jaon (28.5 kilometres; 15-17 hours). Here on out, you'll be doing the same amount of walking that you did on days one and two put together, as this is the final leg of your journey. From Bheem Dawaar, you'll make your way back down through the various levels to the settlement of Jaon.
Conclusion
One of the most difficult and rewarding hikes in India is now behind you. Your pilgrimage to Shiva's holy place has been blessed by the god himself. You, too, have experienced the wonder of the Himalayas, with their stunning scenery and abundant wildlife. You have persevered through numerous trials and tribulations, demonstrating great faith and fortitude.
We pray that this article has helped you in your quest to reach Srikhand Mahadev by supplying you with the information you need to successfully plan, set off on, and return from your trip. The authors of this piece are hoping that they have piqued your interest enough to motivate you to undertake this test for yourself.
You Can Also Read Here How to Cook a Perfect Black and Blue Steak