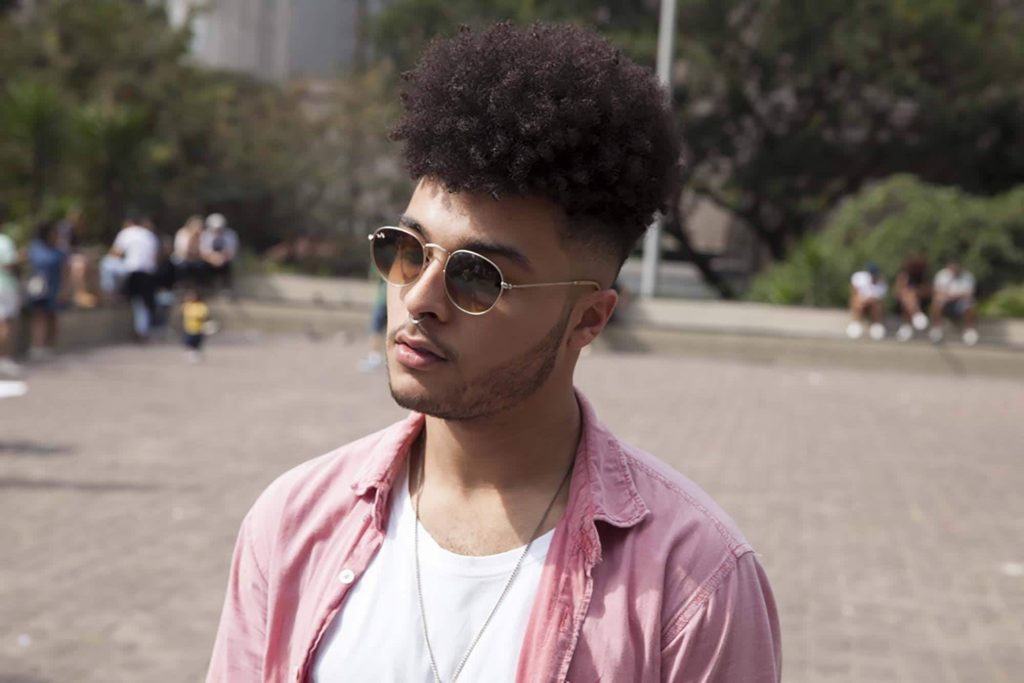 The Ultimate Guide to Low Taper Fade Hairstyles for Men with Curly Hair
A low taper fade can be a modern and trendy option for men with curly
A low taper fade can be a modern and trendy option for men with curly hair who seek a new style. The hair is cut longer on top and shorter on the sides and back to create a sharp and tidy appearance with this style. Curly-haired guys can benefit greatly from a low taper fade since it highlights their hair's natural texture while yet providing a clean, tidy side profile. Here, you'll find detailed instructions for achieving a low taper fade, as well as tips for styling your new do and photos of famous guys sporting this look.
What is a Low Taper Fade?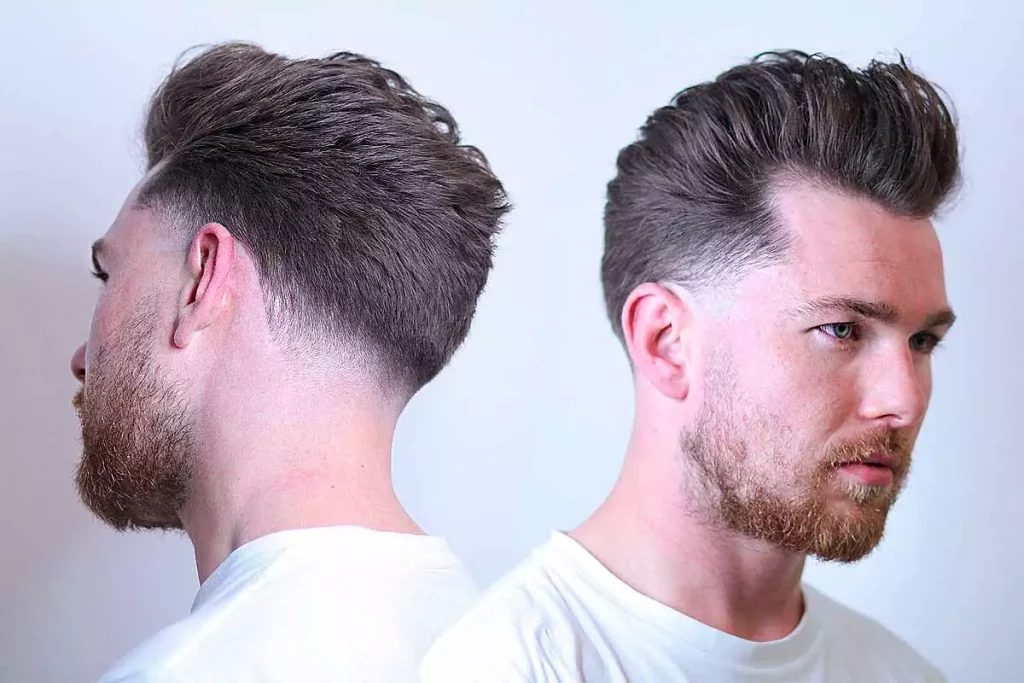 One of the oldest and most adaptable men's hairstyles is the taper haircut, of which the low taper fade is a version. A taper haircut is one in which the length of the hair is reduced gradually from the crown down the sides and back. The length and form of the top and sides, as well as the beginning and ending points of the taper, are all ways in which a taper haircut can be personalised.
The purpose of a fade haircut is to create a stylistic contrast between the longer hair on top and the shorter hair on the sides and back, and is thus similar to a taper haircut. The height, shape, and amount of skin exposed are all factors that can be changed when getting a fade haircut.
Low taper fade haircuts are a balanced and trendy hybrid of taper cuts and fades. In contrast to the conventional hairline, the hair in a low taper fade fades out closer to the ears and neck than it does at the temples. Curly, straight, wavy, long, short, or medium hair on top can all look great with a low taper fade.
How to Get a Low Taper Fade
A low taper fade is a specific form of haircut that calls for experience and training to do well. To achieve a low taper fade that works with your curly hair, consider the following:
Find a good barber: Find a barber that is experienced in cutting fades and taper haircuts for guys. You can also see if they have experience with low taper fades by looking at their web portfolio or reading reviews.
Share your tastes and needs with others: Specify to your barber the specifics of your desired low taper fade, such as its starting and ending points, the amount of skin you want exposed, and the shape you want it to take. Also, if you have any pictures of low taper fades that you particularly enjoy, feel free to share those as well.
Consult with others: If you're not sure what low taper fade will look best on you, your barber can offer advice based on your facial structure, hair texture, and desired look. They may advise you on how to care for and improve the look of your low taper fade at home, suggesting specific products and equipment.
Maintain frequent haircuts: Depending on how fast your hair grows, you may need to visit the barbershop every few weeks to maintain your low taper fade. In addition to regular haircuts, you can ask your barber for tips on how to maintain your hairstyle in between visits.
How to Style a Low Taper Fade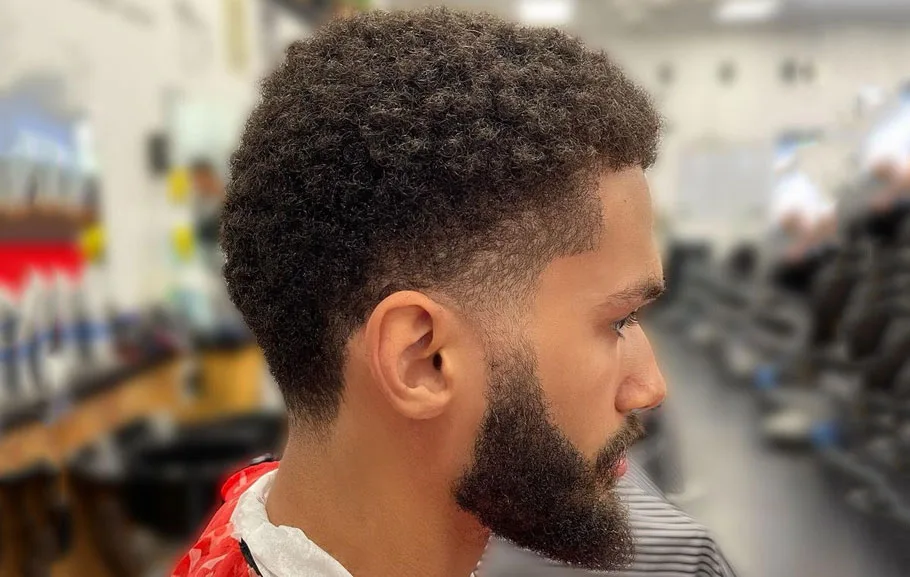 Because of its natural neatness and shine, a low taper fade rarely needs any additional styling. If you want to spice up your low taper fade, though, here are some suggestions:
Care for your curly hair: The use of moisturising products that nourish and hydrate curls is essential because curly hair is prone to dryness, frizz, and tangles. Too much heat or chemicals on your hair can destroy your curl pattern and lead to breakage, so you should try to limit their use. If you must style your hair, try air-drying or diffusing on a low setting.
Choose the right products: Curls can be accentuated or tamed with the help of several products. Curls can be given more definition and hold with the help of products like pomade, gel, cream, or wax. Curls can be given more volume, bounce, or smoothness with the use of mousse, spray, or serum.
Use the right tools: Curly hair with a low taper fade don't require much more than your hands and fingers for styling. On the other hand, you can utilise tools like a comb, brush, or curling iron to get more intricate or sophisticated looks. In order to avoid pulling or damaging your curls, use these tools gently and sparingly.
Experiment with different styles: If you have curly hair and a low taper fade, you have a lot of options for how to wear your hair. A curly top, afro, quiff, pompadour, or faux hawk are all possible ways to style curly hair. Accessories like a hat, bandana, or headband can also be used to liven up a low taper fade.
Examples of Low Taper Fade Hairstyles for Men with Curly Hair
Check out some famous people that have curly hair and a low taper fade if you want some ideas for your own hair. Check out these examples of low taper fades on men with curly hair to get ideas for your own cut.
Bruno Mars: The musician's trademark curls are as recognisable as his catchy tunes. He frequently wears a low taper fade with a curly top that makes him appear taller. To further emphasise his curls, he occasionally uses highlights or dye.
Donald Glover: Childish Gambino, the actor and rapper, has worn several various hairstyles over the course of his career, but the low taper fade paired with an afro is arguably his most recognisable look. He allows the curls in his hair grow out on top, while keeping the sides short and faded. His low taper fade is often complemented by a beard and/or glasses.
Zayn Malik: The former member of One Direction and current solo artist has a dynamic and cutting-edge aesthetic that reflects his musical development. He frequently sports a low taper fade and a quiff, which together give him an air of refined sophistication. He will also occasionally style his quiff with waves, spikes, or blonde streaks to give it some visual interest or contrast.
Dev Patel: The Oscar-nominated actor's charisma and attractiveness are boosted by his wavy hair. His signature style is a low taper fade with a pompadour, which exudes sophistication and panache. Depending on the occasion or character, he also occasionally parts his pompadour to the side or wears it slicked back.
Conclusion
Men with curly hair can benefit from a low taper fade since it highlights the hair's natural texture without compromising on cleanliness on the sides. It's a versatile and adaptable cut that works well with a wide variety of top hair lengths and textures, from short to long to medium to curly. You may change up the look of a low taper fade to suit any event or expression.
You Can Also Read Here How Whey Protein Can Boost Your Muscle Growth and Recovery