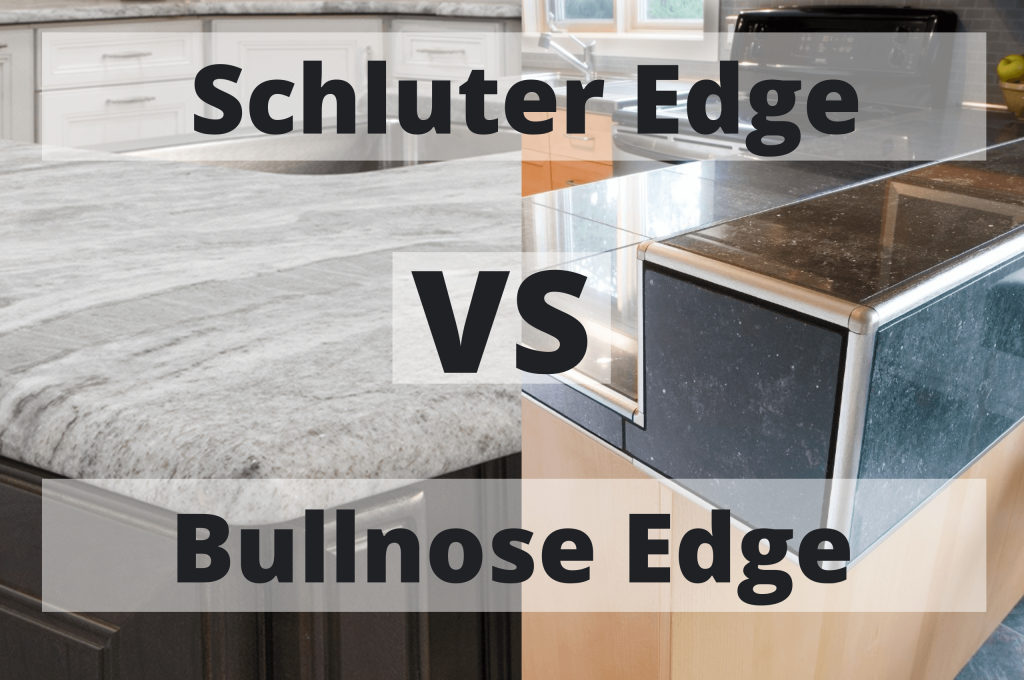 Which Tile Trim Option Is Better, Schluter or Bullnose?
Before beginning the renovation process, particularly for the kitchen and bathroom, such as tiling, the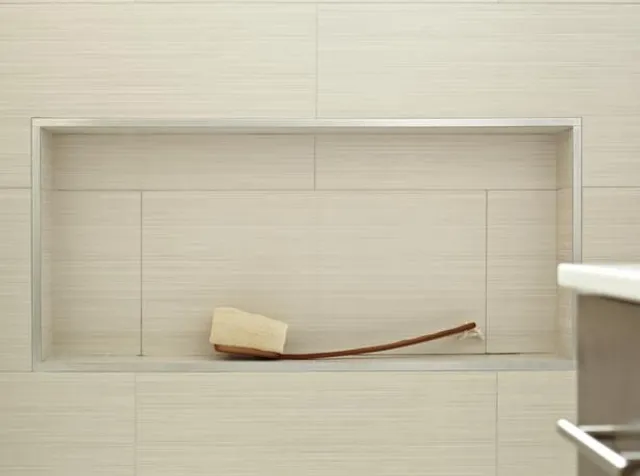 Before beginning the renovation process, particularly for the kitchen and bathroom, such as tiling, the phrases schluter and bullnose are unavoidable. So, what exactly are they?
Schluter metal strip and bullnose edging are optional to guarantee a clean transition from the laid tile to the next material. This is due to the fact that when the tile is cut, it cracks and lacks a straight and clean edge.
All solutions are excellent, but we must choose the one that is best for you. Assess the area where the tile will be laid as well as the aesthetic you want to create. Hence, to make your decision easier, we've outlined the fundamental distinctions between schluter and bullnose in this post.
What exactly is Bullnose?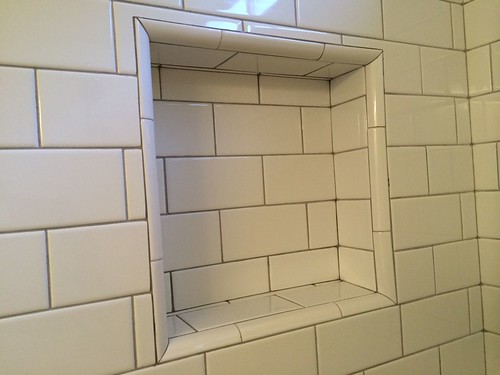 A bullnose is a method of smoothing the transition of a tile to another material or surface. The bullnose, on the other hand, is a solid tile edge rather than a substance. The title itself has a rounded edge. Bullnose tile trim is often used for edging and completing walls, countertops, and backsplashes in kitchens and bathrooms, but it may also be utilized in other parts of the house or company.
Moreover, the bullnose border serves both aesthetic and functional objectives. The rounded border prevents chipping and adds structural support to the countertops. It also makes a seamless transition between the countertops and any adjacent surface, such as the backsplash or wall.
It is crucial to remember that bullnose edging is not available for all tile types but may support a range of tile designs. Bullnose tile trim comes in a variety of forms and materials, such as ceramic, porcelain, and natural stone.
Bullnose features a rounded border that softens the overall look. It is quite adaptable and may be used to accent both modern and classic design. If cut and fitted properly, this bullnose border may offer a clean finish to any tile surface.
Because of their particular qualities, several other materials, such as marble and granite, naturally have a rounded bullnose border during the shaping process. Various materials, such as ceramic tile, may need the use of specialized equipment to accomplish this edge style.
While installing the bullnose border, it is critical to precisely measure and cut the tile so that it fits perfectly. When the tile has been cut, it may be put with a trowel and thin-set mortar. Gently push the tile, ultimately pressing it into the correct location.
This bullnose border gives a traditional style that may compliment any design approach while delivering durability and usefulness. When selecting a border profile for your countertops, consider both aesthetic and utility.
This border is a fantastic option since it increases the tile's durability and makes it less prone to break due to everyday wear and tear. A bullnose edge is also a rounded corner on a countertop or tile. Its edge softens the overall appearance and may aid to protect against harm from severe sink angles.
The smooth, rounded corner of the bullnose provides softness and contrasts with the linear tile pattern. It may be used to provide a decorative touch to a backsplash or a wall. Changing the bullnose edge tile is a simple technique to enhance the overall appearance of any tiled surface.
This provides a third center point to cross two trim boards for most carpenters installing trim. Joining two board cuts with a 45-degree miter creates a gap, preventing a smooth and snug fit.
To generate the illusion of rounded bullnose corners, carpenters (or competent DIYers) utilize a sequence of four 22.5-degree cuts. Lastly, bullnose corners are made of natural and organic materials or derived from earth-based adobe buildings.
To integrate perfectly with the rest of the tiles, group this bullnose with other similar hues. This final touch enhances the aesthetic appeal as well as the practicality of any tiling job.
The Most Popular Bullnose Tile Shapes
Rectangular bullnose trim is most often used to outline tile backsplashes, countertops, and other transitions.
Corner bullnose Pisces features two rounded borders for wall or backsplash corner installation.
Clients that seek a continuous checkerboard pattern in tile designs choose square bullnose trim.
What exactly is Schluter?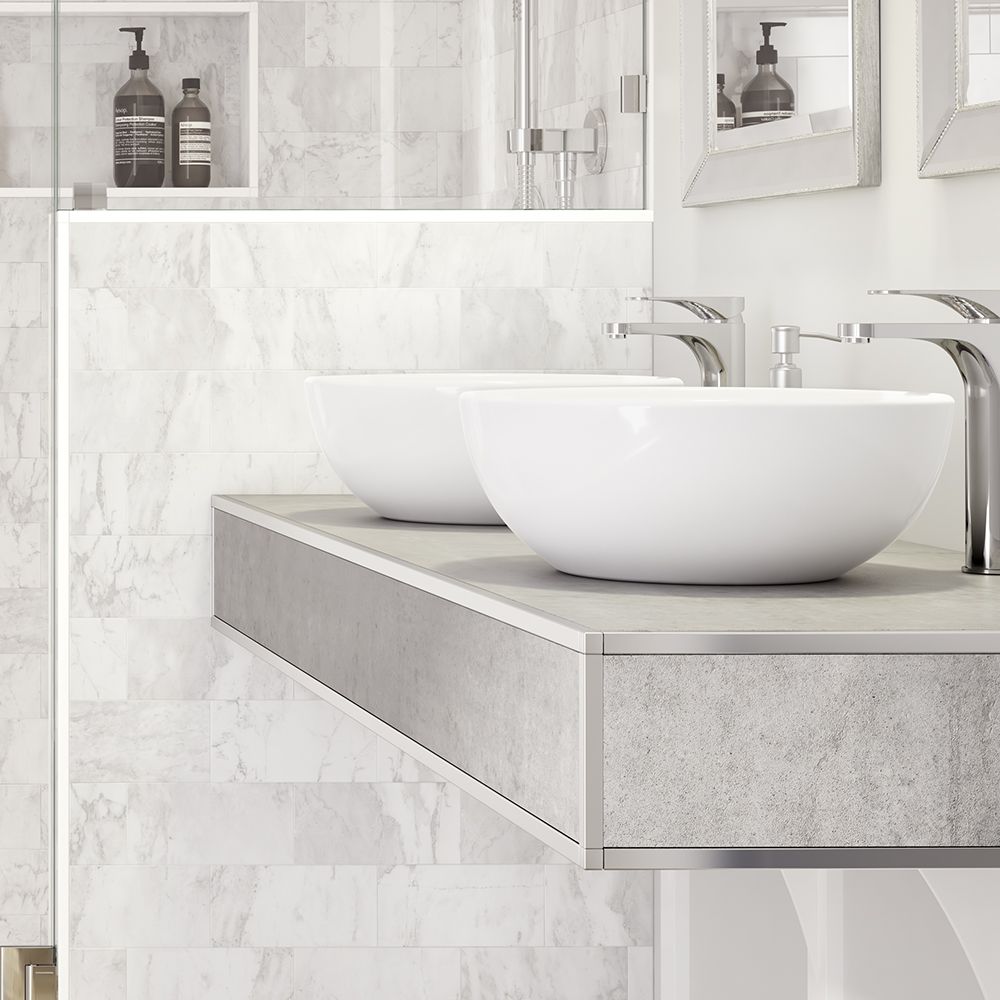 Schluter is a tile border trim material that is often composed of aluminum or stainless steel. They may be used as dividers between various kinds of tiles or as exposed tile borders. The Schluter metal strips play an important function in providing support and strength for the tile borders, which helps to avoid chipping and cracking.
"A metal "L" corner put before laying tiles will not only provide edge protection," says the designer of schluter metal strips. Yet, it should also conceal the unglazed borders and offer a straight and smooth transition to the surrounding surface.
They provide a seamless transition between tiles and surfaces like worktops or shower walls. Schluter metal strips are made of corrosion-resistant material, assuring long-term stability in moist conditions.
These Schluter metal strips can endure a long time if necessary measures and maintenance are taken. Schluter tile edges provide a seamless transition between the tile and the surrounding surfaces. They also contribute to the creation of ornamental accents on tiled floors and walls.
They also give additional protection against chipping and cracking at tile borders. With their solid anchoring and self-adhesive backing technology, installation is simple.
Whether going from one tile to another, elegant or around the corner, their square borders provide a beautiful but simple and classy aesthetic. Not to add, homeowners may easily integrate Schluter's colors with other shower hardware and other fixings, such as lamp and vanity knobs, particularly in bathrooms.
They often come in a number of finishes and heights, allowing you to match these metal strips to any renovation project. To guarantee secure bindings, use suitable caulking and adhesives.
Additionally, Schluter metal strips are available in a variety of tiling alternatives. They are simple to install and may be trimmed to suit practically any residential area. By generating smooth and crisp lines, these strips may help you improve the aesthetic look of weary surfaces.
When installing Schluter strips, appropriate spacing and alignment are critical for best performance and cosmetic appeal. Proper tile placing may need the use of specialized instruments such as a tile snip or balancing tools.
4 Schluter Profiles Concepts
During the transition to various floor coverings, floor profiles prevent tile borders from chipping or cracking.
Cove-shaped profiles provide gentle transitions between walls and floors. This decreases dirt accumulation and facilitates cleaning.
Tile borders on external wall corners, bases, wainscoting, and other surfaces are finished with wall and countertop profiles.
Stair-nosing profiles provide a safe, slip-resistant surface while finishing and protecting tile borders.
Important distinctions between Schluter and Bullnose.
Schluter and Bullnose are two separate ways of finishing an exposed tile border, although having comparable duties and high-quality possibilities.
1. Designing
The first noteworthy distinction between the Schluter and Bullnose is their general design.
Schluter's profile is L-shaped, having two perpendicular edges. Bullnose tile, on the other hand, is generally rounded at one end to provide a smooth, curved finish.
Moreover, Schluter tile may be used for both aesthetic and utilitarian objectives, while Bullnose tile is often employed for ornamental purposes.
Schluter, for example, may transition between carpet and tiles or cover exposed borders. They are manufactured from different materials, which makes a big difference. Bullnose tile is often constructed of the same materials as other surrounding tiles on the market, while Schluter is typically composed of metal or plastic.
2. Longevity
The Schluter Shower System is well-known for providing outstanding waterproofing in contemporary bathrooms. If properly maintained for, a Schluter product may survive for more than fifty years. The connection is basic, but it is really successful in the long term.
Bullnose tiles are still used at home to conceal uneven boundaries and identify tile designs. Yet, the marvels may be more durable and adaptable than Schluter. With good maintenance, Bullnose tiles should last at least eight to 10 years.
3. Establishment
Schluter demands more exact measurements and an expert installer for installation. Bullnose, on the other hand, is often DIY-installable with minimum hassle.
This must also be considered when determining the overall coat, since Schluter is more costly. If you are determined to complete the tile design yourself, the bullnose approach may be a preferable option, particularly if you lack experience in this area.
4. Security
Schluter tiles are the most popular DIY items among homeowners. When Schluter kits are put in damp areas, they give substantially superior waterproof protection.
Bullnose tiles are put towards the conclusion of home improvement projects. In actuality, they are market-standard classic design tiles. Still, the blocks defend corners and serve well as ornamental trim.
5. Scope
Schluter and bullnose tiles are often used in wet rooms. In reality, they both conceal exposed tiles and serve as aesthetic protection. Bathroom and kitchen counters, backsplashes, and swimming pool tile borders are examples of applications.
Tiled shower niches, corners, movement joints, outer borders of a backsplash, and other moist areas are ideal places to use these tiles.
6. Pricing
Schluter tends to be more costly in terms of cost owing to its sturdy construction and multi-functionality.
Bullnose is often less expensive than Schluter, however it may not be as durable or adaptable as Schluter.
Conclusion: Which is the better option?
So, which should you go with? Bullnose vs. Schluter. Both border alternatives are long-lasting, safe, and visually beautiful. This is not a correct option; rather, it is a personal preference. Schluter is a popular option in many contemporary bathroom and kitchen remodels. Yet, some individuals favor bullnose for a more exquisite, rustic aesthetic.
There are several pricing considerations, the most important of which is the kind of tile used. Remember, you're doing this while upgrading your kitchen and bathroom. Do your research, consider where the bullnose tile or Schluter will be laid, and choose the one that best meets your demands and taste!