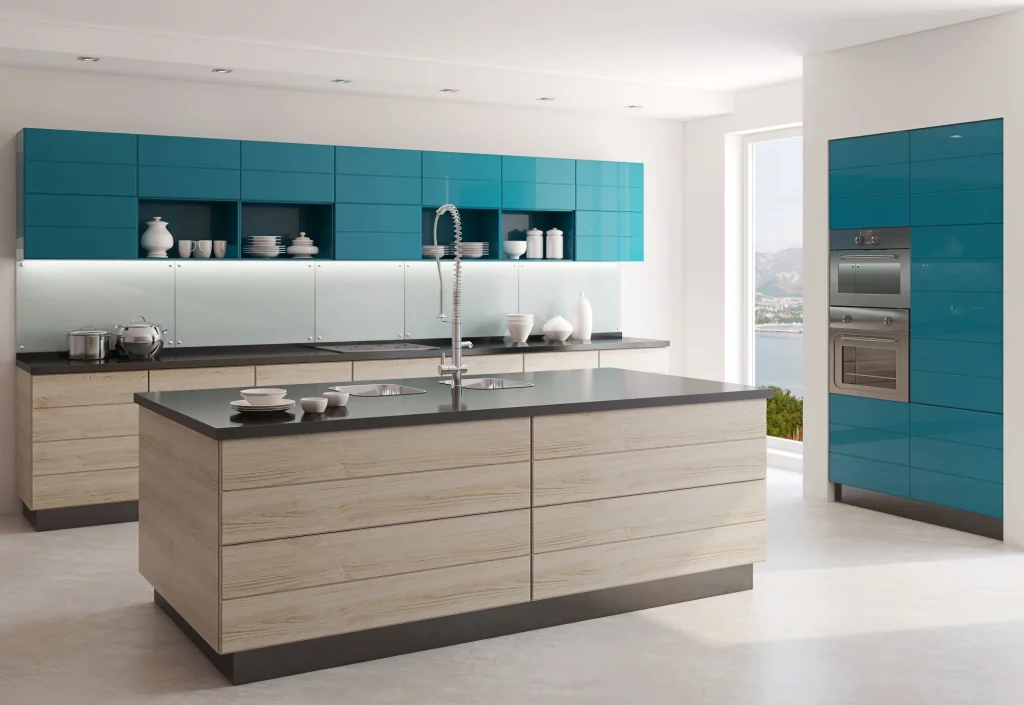 5 Ways to Maximize Space with a Small Modular Kitchen Design
Are you looking to remodel your kitchen, but you don't have a lot of space
Are you looking to remodel your kitchen, but you don't have a lot of space to work with?
Remodeling your kitchen can be an enormous undertaking, one that requires you to utilize every inch of space to get the most out of your project. Fortunately, small modular kitchen designs, which are smaller and come pre-assembled, make all of the difference.
Here are a few ideas to get you started.
1. Opt For A Peninsula Over An Island
Opting for a peninsula over an island in a small kitchen is an excellent space-saving design solution. A peninsula provides the same amount of workspace as an island, but it takes up less floor space.
Additionally, with a peninsula, you can keep the space open, which makes for a more open, airy, and spacious feeling. With cabinets and drawers on each side as well as underneath, a peninsula also maximizes storage.
2. Combine Storage With Decor
When it comes to maximizing space in a small modular kitchen design, there are several ways to combine storage with decor. One option is to use shelving and cupboards to store items that are also decorative.
When choosing decorative items for your walls, look for pieces that will showcase your dishes and kitchenware, and make sure they have a functional aspect as well, like hooks to hang utensils. Finally, the use of mirrors can help to make the new kitchen appear more spacious while at the same time adding some decorative flair.
3. Make Use Of All Dead Space
A small modular kitchen design is a great way to make the most of limited space. To maximize the space even further, consider making use of all dead space, as this will create extra room for necessary items and appliances, which could otherwise clutter the room.
Install a wall of cabinets, or make use of space-saving stackables. Utilize open shelving for display or for storing necessary items. Use corner shelves, spice racks, and narrow cabinets to store items.
4. Make Use Of Spaces Outside Of The Main Kitchen
When considering designing and decorating a small modular kitchen, maximizing the space of the main kitchen is essential. Ways one could maximize the layout and design of the kitchen include utilizing the popular open concept.
This involves opening up walls between the kitchen and dining or living room, which gives the illusion of extra space while still providing defined areas. Installing a kitchen island can also help to maximize space. It can act as an additional food preparation area or store appliances.
5. Assign a Purpose To Each Small Kitchen Storage Zone
Small modular kitchen remodeling ideas can help maximize space by assigning a purpose to each storage zone. Take into account the items you use the most and create a space for each to minimize movement and disorganization.
Depending on the size of your kitchen, allocate areas specifically for your kitchenware, under-sink storage, food preparation areas, and food pantry. Group items together in clear or labeled bins that can easily be tucked away in drawers or shelves.
Explore About Small Modular Kitchen Design
Small modular kitchen designs are an excellent way to maximize space and get creative with kitchen design. Modular pieces can help create a visually appealing space using creative layouts and effective storage solutions.
Consider exploring more options to personalize your kitchen and make it your own.
Did you find this article helpful? Check out the rest of our blog for more!